Dot Sharpe Scholarship
About Dorothy Douglas-Sharpe, MS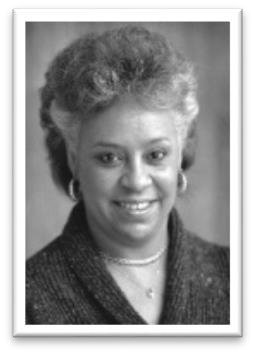 February 11, 1938 –December 10, 1996
In 1987, Dorothy D. Sharpe was a Postal Career Executive Service (PCES) Executive serving as the General Manager, Affirmative Action Division, Headquarters.She was previously a Diversity Development Specialist and Civil & Equal Rights Activist.
Dorothy Douglas-Sharpe, affectionately called, not just Dot, but "Dot Sharpe" by everyone who knew her, was lovingly adopted by Mrs. Carrie Douglas Pennington, of Memphis, Tennessee, when she was three (3) years old.She attended Porter Elementary School, graduated from Booker T. Washington High School in 1955. She later moved to Detroit, Michigan to attend Wayne State University. In 1986, she earned a Master's Degree in Public Administration, from American University, Washington, DC, while participating in the Key Executive Program.
While in Detroit, MI, she met and married Walter Robert Sharpe. To this union, two (2) daughters were born; Denise Yvette, and Valarie Louise Sharpe.
Dot Sharpe's career with the US Postal Service began in 1964, and what a prestigiously stellar career it turned out to be! Beginning as secretary, she served in five (5) functional areas in the Memphis Regional Office. She was promoted to EEO Investigator in 1978, and from there advanced to Southern Region Women's Program Manager, National Women's Program Manager, then, General Manager of the Affirmative Action Division, at US Postal Service Headquarters, Washington, DC.
She was well known throughout the Agency and without for her efforts in promoting the principles of equal employment opportunity and affirmative action. During her illustrious career, she successfully implemented, administered and monitored nationwide Postal Policies and actions to ensure compliance with EEO, Affirmative Action, and Diversity Development. In 1995, she assisted in developing the Postal Service's presentation material for the United Nations Forum on Women in Beijing China.For her outstanding efforts she's received numerous Honors and Awards, including the prestigious Postmaster General's Award for Executive Achievement.She was a founding member of A-PLUS (African American Postal League United for Success), a lifetime member of Federally Employed Women, and founding member of NETWORK, a mentoring organization for those seeking upward mobility. Her gift of generous giving of herself on behalf of others, and those she's assisted with career advancement is impossible to even attempt numbering. What is known is the outpouring of appreciation attributed to her love, dedication, and commitment to assist others whenever or wherever needed.
She was a member of Les Neul Femmes and Holidays Inc., a lifetime active member of the NAACP, the Urban League, working with multiple coalitions dealing with cause and effects of discriminatory practices in law enforcement. One of the Ministers who officiated at Dot's funeralservice was the Honorable, Reverend, Benjamin Lawson Hooks, President, NAACP (1977-1992, retired). I think Dot would have smiled to know that.Sweet memories and to rejoice in having known her, devoted and loving fiancé, James (Jim) Oliver, three (3) daughters, the late Valarie L. Sharpe-Powell, Denise Y. Sharpe-Bland and Myquita D. Jones, all of Memphis, three (3) grandchildren and her entire Postal and A-PLUS Family.
DOROTHY DOUGLAS-SHARPE
National Scholarship Recipient Listing
Period Covered: 2003-2016
SHARPE SCHOLARSHIP RECIPIENTS
(Look At Me Now)
2017
Mikayla B Jones
Stephen Davis
Faith Johnson
2016
Mikayla B Jones
Maiah Lorrayane Dixon
Malik Jaron Sanders
Uriah I Scott
Aka Outley
2015
Sidney Mann
Mikayla B Jones
Maiah Dixon
Brittanei Wells
James Ball
2014
Britany Rose Davis
Carl Walton Jr
Deavin Taylor
Mikayla B Jones
2013
Breyana Gibson
Jason Harris
Michelle Mann
James William Reede III
Denzel X Caldwell
2012
Renee' Henderson
Kelly G Mabon
James Reede III
Jonathan Wall
Markila Witherspoon
2011
Chelsea Black
Yuri G Hodges
Jenesis Lafarcorde
Rodney Maclin Jr
2010
Briana Bonner
Britney Craig
Kiarra Jones
Alexander A Rodger
Andre Sturges Jr
2009
Jason Harris
Cormac Parker Jr
Shirrell Smith
Erin Smith
2008
Kalyn Hunter
Tobi Lee
Cordell Walton
2007
Aleidra Allen
Ashley Jackson
Sydaea Redwine
Norris Ryan
Ashley Rogers
Rasheedah Woodard
2006
Kiera Magee
Norris Ryan
Miracle Ross
Rasheedah Woodard
2005
Norris Ryan
Mojnica Tapia
Rasheedah Woodard
2004
Ch'iavani Case
Tiffany Stubbs
Norris Ryan
Rasheedah Woodard
2003
Kimeisha Crum
Sortorria Rayford
REGIONAL CHAPTER AND A-PLUS MEMBERS
As part of the A-PLUS Organization Communications Plan we are highlighting the present
status ofpast National Dorothy "Dot" Sharpe scholarship recipients.
In order to achieve this, we are requesting your assistance.
Regions, chapters and individual members who have sponsored students who were recipients of the scholarship, we need your assistance in getting the information.
Below is a form which asks for information to be used in providing the requested information.
Please include a current photograph (300 DPI or more) for the best resolution.
Send the information to:
Vertie Woodard
5434 11th Avenue
Los Angeles, CA 90043-2512